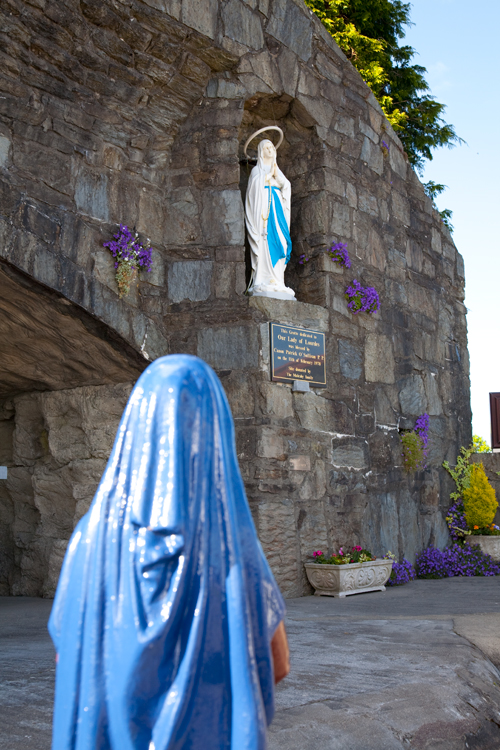 Fr Paddy O Sullivan PP Crosshaven and ex-PP Murragh and Templemartin, blessed the Grotto on The 11th Feb 1978. Six years previously Fr Paddy led a parish pilgrimage to Lourdes and it was from there that the seeds were sown to erect a Grotto in Newcestown Fr. Paddy was made an Honorary Canon in Lourdes in recognition of his devotion and work in honour of Our Lady.  There is a small rock built into the Grotto that was taken directly from the Grotto in Lourdes. The Mulcahy family donated the land and the cost came to £4,000.00.
There is a lovely reflection on the Grotto written by the late Chrissie Ryan rip Murragh.
To Jesus Through Mary
Near Newcestown village at the bend of the road
Stands a beautiful grotto-Our Lady's abode.
"To Jesus through Mary" the inscription says
There's peace for the pilgrim who kneels here to pray.
On a bright summers evening as the Rosary we pray
The ambience of Lourdes is here in Mary's month of May
Likewise in wintertime with snow on the fields around
The stains of the "Ave Maria" like a choir resound
So why not come and join us, with our Lady and St Bernadette
As we pray and sing their praise, our faith is buoyant yet.