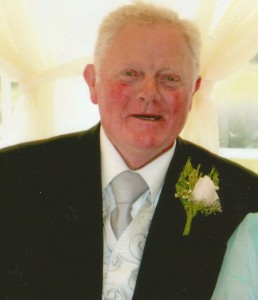 Dan Lynch, Castlelack, died on Wednesday 23 November (the feast of St Columban) in Marymount. He was the beloved husband of Mary and the dear father of Helena (Deane), Catherine (Twomey), Declan, Sylvia (Hayes), Sandra (Burke) and Kevin; a much-loved brother, father-in-law and grandfather.
This was the homily given by Fr Bernard at his funeral Mass in Farnivane Church on 25 November 2016.
Jesus said: "You must stand ready, because the Son of Man is coming at an hour you do not expect….. (from Luke 12:35-40)
1. It is a gift from God to be ready for the Lord to call you, and as his family know well, Dan Lynch was ready: he told ye so often. He knew where he was going and was ready for the Lord to call him there. He was blessed with a beautiful faith, and he took the Lord at his word, when he promised to be with Dan always.
2. And what a reunion awaits him: all the heroes of his youth, Father O'Riordan of Farnivane, Mr Fitzsimons of Mount Pleasant School and all the old neighbours and friends — stories to be told about the day our cemetery was opened, when Dan served as altar boy, or the first funeral here — stories to be told and retold, in heaven as they were so often on earth.
3. (To Dan's family): your loss is immense — we all know that. It's why we are here with you. We will continue to pray for you, that God will support you in the lonely days ahead. May God give you some of Dan's faith to sustain you. And may God reunite you with him when, like Dan, your time on earth is over. Let there be a day when you are all together again — where parting is no more, in the Kingdom of Light.