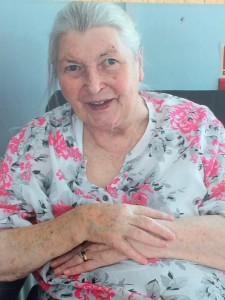 Maureen Murphy, late of Old Park, died in Bandon Community Hospital on 22 October last. Maureen lived in Kent for over 40 years, moving to our parish in 1997 with her beloved husband Joe (Joe died just two years later). The main door to Farnivane church was donated by Maureen in Joe's memory. This was the homily given by Fr Bernard at her funeral Mass in Farnivane on 24 October 2016.
The most important part of a room or a house is the door. A room or a house without a door that opens freely is a cell or a prison or a tomb. The open door welcomes family and friends in; in fact it's a symbol of welcome.
The door of a church is an important place. Here, a baby to be christened is formally welcomed and here at the end of life, the body of a Christian is lavished with the water of baptism, the reminder of the eternal life to which a Christian is called.
In her kindness, Maureen Murphy provided for the reconstruction of the main door of this church, and the plaque on the outside records this event, in memory of her late husband Joe. Accordingly, the Gospel I have just read ((John 10:1-10) is the one used when new church doors are blessed, which tells us that Christ is the gate for the sheep, he is the true door to eternal life: we, the sheep, follow him, our shepherd, and he brings us to life without end, for he said:




"I have come that they may have life, and have it to the full."




Life to the full, with her husband Joe, in the new world, is what we pray for Maureen today.
We honour Maureen's generosity that gave us not only the beautiful baptismal sheet adorning her coffin but also the main entrance to the church, but we celebrate an even greater generosity too: God's — for in his generous love, God opens to all who believe a door to eternal life, and stands there, like a kind parent, ready to welcome us in through the door of heaven. May we all enter through that door when our time on earth is over and be re-united in the heaven he has prepared for us.