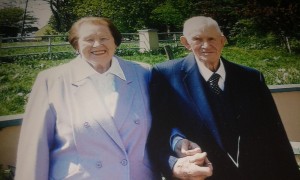 Norah Scanlon, Commons, died on 29 September at Bishopscourt Residential Care Home, beloved wife of the late Michael and loving mother of Michael, Anne, Mary and Eamonn. Her funeral Mass was celebrated on Saturday 1 October in Newcestown Parish Church: Fr Bernard's homily follows:

1. This Gospel (John 15:12-16) is more often read as a wedding than a funeral, but it really is a Gospel about friendship:
"You are my friends if you do what I command you", said Jesus;
"I shall not call you servants any more,
because a servant doesn't know his master's business;
I call you friends…"

2. I learned so much about friendship when I called to Norah in Commons — particularly in her husband Michael's description of her, for as long as he could say it:
In Michael's eyes, his wife was "my excellent friend, Norah Burke from Lough Hyne". 'My excellent friend', he used to call her, words Norah repeated with pride and love.
Friendship is the basis of a good marriage, with its emphasis on unity of purpose and equality. Friendship is the foundation on which love grows.
"This is my commandment," says Jesus:
"love one another, as I have loved you."
3. In the Gospel, Jesus also spoke of bearing fruit:
"I commissioned you to go out and bear fruit, fruit that will last…"
The fruit of a good marriage like Norah and Michael's is the example to others of fidelity and hard work; this legacy lives on in their children and grandchildren. We thank God for them and we hear Jesus calling them to follow in the way Norah and Michael led:
"I commissioned you to go out and bear fruit, fruit that will last…"

4. And the Gospel finishes:
"And then the Father will give you anything you ask him in my name."
So what do we ask in Jesus' name?
In Jesus' name, we ask that Michael and Norah, those 'most excellent friends', might be re-united.
In Jesus' name, we ask that everyone who mourns the loss of Norah today may be comforted.
And, in Jesus' name, we ask for the grace to follow the same path as these excellent friends and thus to meet them again, where parting is no more…..